Discover for FREE How to Burn Fat & Send Your Confidence Soaring!
 Rapid-Paced, FREE Routine Showcases 10 Exercises That Anybody Can Use to Lose Weight & Feel Better About Themselves
"Do these pants make me look fat?"
If you've ever asked the question above … or if you've ever looked in the mirror and been disappointed with what you see …
We've got an exciting new exercise program for you … a program that we are going to give you for FREE!
But first, let's quickly talk a little more about excess fat and how it can affect us both physically and mentally.
The Truth is Being Overweight Can Not Only Harm Our Health But Also Cause Us to Lose Our Confidence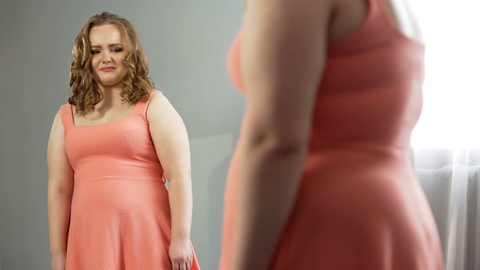 Ever heard the saying "to look good is to feel good?" Well, obviously that is not necessarily true but what is true is that when we don't like our appearance, it can make us feel depressed and it can cause us to withdraw from life and not have as much fun.
In this social media age, appearance has become more important than ever before. Everybody wants to look younger and thinner. Carrying around excess weight can make us feel self-conscious and unattractive.
Let me tell you a little secret:
Losing weight, looking good, regaining confidence, and knowing that you are healthy means much more to all of us than we care to admit.
Let me ask you:
How much easier would your life be if you lost that excess weight, had tons more energy, and felt healthier than you have in many years?
And if you are overweight and feeling bad now, how much worse could it be in 5 or 10 years?
If you don't fix the situation now, your weight will likely continue to increase and your health will slowly spiral downward.
To help you turn around your future by burning fat and increasing your confidence, we have developed a new program – a program that we are going to give you for FREE by the way (you just pay shipping and handling) – that reveals 10 fun, easy-to-do exercises that will help you burn fat and increase your confidence.
These Exercises Work for EVERYONE!
It doesn't matter if you are elderly, overweight, have a bad back, or other injury – these exercises can allow you to burn fat and improve your health.
If you've been thinking about starting an exercise program, this workout is perfect. It's a way to get started using the most effective, easiest to do exercises.
There's no long learning curve – we'll explain and show you how to do each exercise. And you can do this program in the privacy of your own home – you won't have to pay for a gym membership and then try to learn how to do particular exercises in front of a judgmental crowd.
INTRODUCING
10 Different Confidence-Boosting,
Fat-Burning Moves!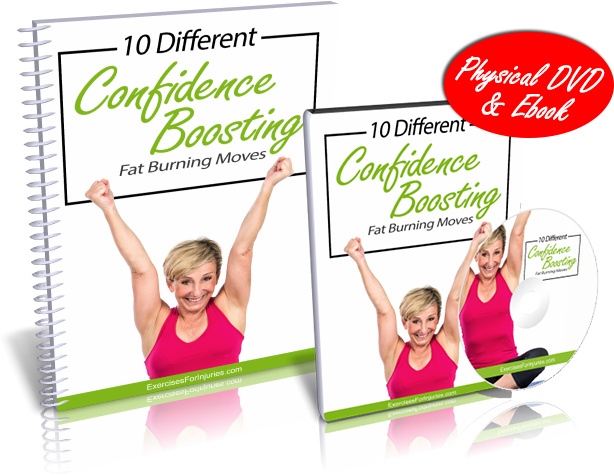 This program includes a DVD that we will ship to you along with instant online access to mp4 video files and a PDF manual that shows you exactly how to perform each exercise for maximum benefit.
We also provide you with the sets repetitions, and strategies needed to increase the difficulty of the workout, allowing you to make gains, and look better and better…
And remember, you get all of these for FREE (you just pay shipping and handling).
You'll learn:
10 absolutely terrific exercises you can do to burn fat and increase your confidence – why waste time doing the wrong exercises when you can do these and start seeing noticeable results right away?
The truth about how much exercise you REALLY need to burn fat and keep it off – we'll share the sets and repetitions to use to get maximum benefits
A simple, easy-to-do routine that produces dramatic results without relying on exercises that are difficult to do or potentially dangerous to your health (for example, could cause you to hurt your back)
Common exercise myths and outdated moves that actually do more harm than good
And much more
If you are you sick of boring exercise programs that leave you yawning …

If you steer clear of traditional gyms because you feel shy about working out in front of others …

If you are struggling to either start your weight loss journey or to lose those last few stubborn pounds of fat …
This is the Program for You (… and It's FREE)!
Hi, it's Rick Kaselj, MS, and creating programs that help people heal injuries, eliminate pain, and reach their health goals is my mission in life.
I started as a personal trainer, exercise therapist and kinesiologist, but quickly discovered that many of the traditional exercise and treatment programs weren't producing the results I wanted for my clients.
So I took it upon myself to get the right knowledge, scour the medical research, and do hands-on testing, so I could ACTUALLY help my clients get better and improve their bodies and their health.
With the advent of the Internet, I saw a terrific opportunity to offer and deliver my programs to many more people, so they too could finally get relief from pain, heal their injuries, improve their health, and strengthen their muscles.
I've designed this program to challenge you (in a good way) and to produce results … fast! It is for women and men of all ages and fitness levels and gives you a whole body workout.
You Deserve to Look AND Feel Your Best!
Get your program today (you'll just pay shipping and handling) and get exercises and tips from Exercises for Injuries' knowledgeable and passionate exercise experts.
You can expect a rewarding workout that makes you feel strong and alive all day long. Soon you'll look and feel better in your clothes, you'll feel better about your body, and friends and family will start to notice.
In this program, you'll experience a fun, high-energy, full-body workout.
Do you have clothes that you want to wear but can no longer fit into?
You could see your body start to change in as little as 1 week with this program. Imagine how great it will feel when you're finally able to fit into those skinny jeans again.
So What Are You Waiting For?
Order Now & Get 10 Different Confidence-Boosting,
Fat-Burning Moves! For FREE
Just click the order now button on this page and you will receive:
The 10 Different Confidence-Boosting, Fat-Burning Moves! DVD, which we will send to you! This DVD allows you to see exactly how to do each exercise and takes you through a complete workout
You will also receive instant access to our program mp4 video files and the 10 Different Confidence-Boosting, Fat-Burning Moves! PDF manual. This manual gives you additional exercise information and tips that you can use to lose fat fast.
And all you have to pay – for ALL of these – is just $4.95 for shipping and handling!
But you must act now; this is a limited time offer. This program is much too valuable to give away for FREE for long. To order before it is too late, click below.
The Complaints That We Hear Every Day
from Potential New Clients are Probably Much Like Your Own …
Your clothes are getting tight or they don't fit anymore
You can't stand to see those "trouble spots" in the mirror and nothing you do seems to make them go away
You're embarrassed because you've got a pot belly and flabby thighs and buttocks
You find that you're always tired, irritable and drag yourself through the day
When you walk into a room you feel self-conscious because you think everyone is seeing the same body flaws you do
You're so busy that you never seem to have time to fit exercise into your schedule or think about what you're eating
You avoid gyms because you feel uncomfortable working out and sweating in front of others
You're just plain unhappy about your current weight and body
I developed this FREE routine to help solve these common problems and ensure you get the easy-to-do but highly effective workout you need to look and feel your best.
When you get this program and start doing it consistently you'll:
Lose fat
Flatten your stomach
Tone your arms, legs, back and butt
Improve your health
Boost your energy
Start feeling better than you have in years
It doesn't matter if you just need to lose a few pounds or if you need to lose a lot more, this program will work for you!
Our dynamic routine turns your body into a fat-burning furnace while also spurring the growth of new muscle. You'll lose weight, even in the most stubborn areas like your belly and thighs, and you'll get fit.
Soon you'll be wearing clothes – like shorts, a short skirt, a swim suit – that you've been hesitant to wear in the past.
You'll look great … and you'll feel great!
Order now to get your program for FREE! Do it now before we end this offer and start charging for this valuable content.
To your health and well-being,
Rick Kaselj, MS
Injury Specialist & Kinesiologist