FREE Cookbooks: Celebrate the Holidays With 50 Scrumptious Recipes!
Main Dishes, Side Dishes, Drinks & Desserts … Plus, Christmas Cookies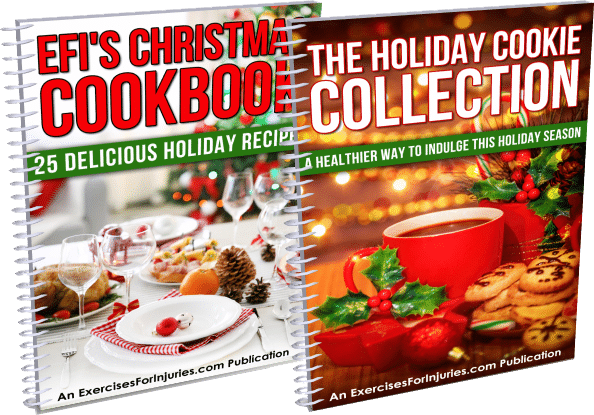 Fill your home this holiday season with delicious foods and enticing smells. Our Christmas Cookbooks contain 50 recipes in all for dishes that aren't just holiday themed, but can also reduce inflammation naturally – helping you feel better and move with less pain!
Recipes are easy to make AND anti-inflammatory to help sooth painful joints!
You get 5 drink recipes, 7 main course recipes, 6 side dish recipes, 7 dessert recipes … plus, 25 Christmas cookie recipes!
Recipes are holiday themed – there are Gingerbread cookies, No Bake Coconut Chocolate Balls, Tropical Mince Pies and much, much more!
Create heartfelt holiday memories with these delicious recipes that will also help your guests feel better!
Get all the best flavors of the holiday season with these free Christmas cookbooks – featuring 50 tasty recipes that are also healthy and anti-inflammatory!
Download our two Christmas Cookbooks now. The recipes are easy-to make; they taste great; and they benefit your health!
Just tell me where to send it!

We value your privacy and would never spam you