Better Meals = Better Eye Health
Want to Eat Health-Specific & Delicious?
[without sacrificing taste]
Attention Invincible Body Academy Members...
Download this EFI Cookbook for FREE
As a Gift to IBA Members ONLY
Everybody knows they SHOULD eat better…
However, that does NOT cook dinner tonight (especially if you're concerned with a specific health condition).
What will you make for yourself and your loved ones?
Is it even possible to create appetizing and health-specific meals?
Thankfully, it is… You only need the right recipes.
If you want to cook delicious meals that scientifically promote and encourage eye health, then you need to grab this month's exclusive cookbook from the 'EFI's Recipes For Healthy Living' series -- Cooking For Eye Health: 25 Delicious Anti-Inflammatory Recipes For Improving Eye Health.
And since you're an active member of the Invincible Body Academy (IBA), you have the exclusive opportunity to grab your digital copy of the Cooking For Eye Health Cookbook absolutely FREE!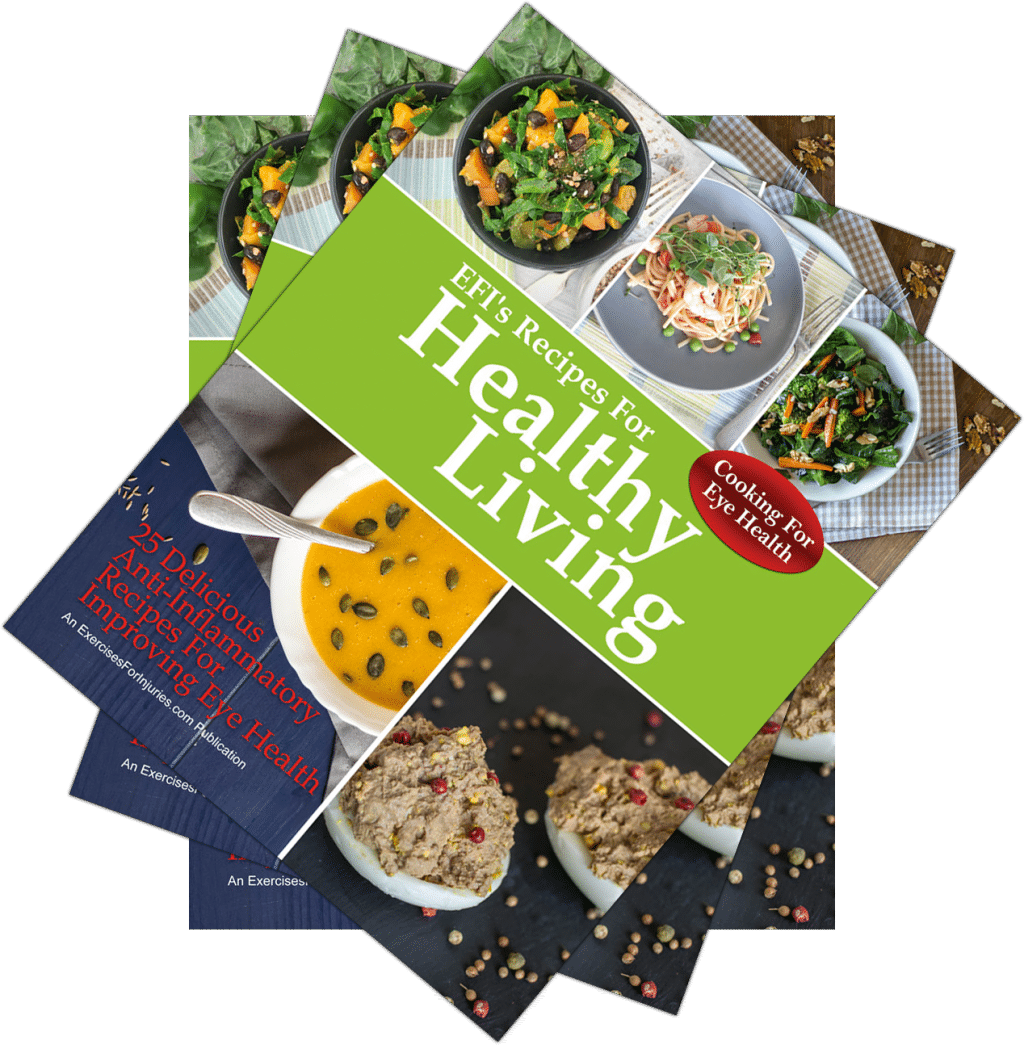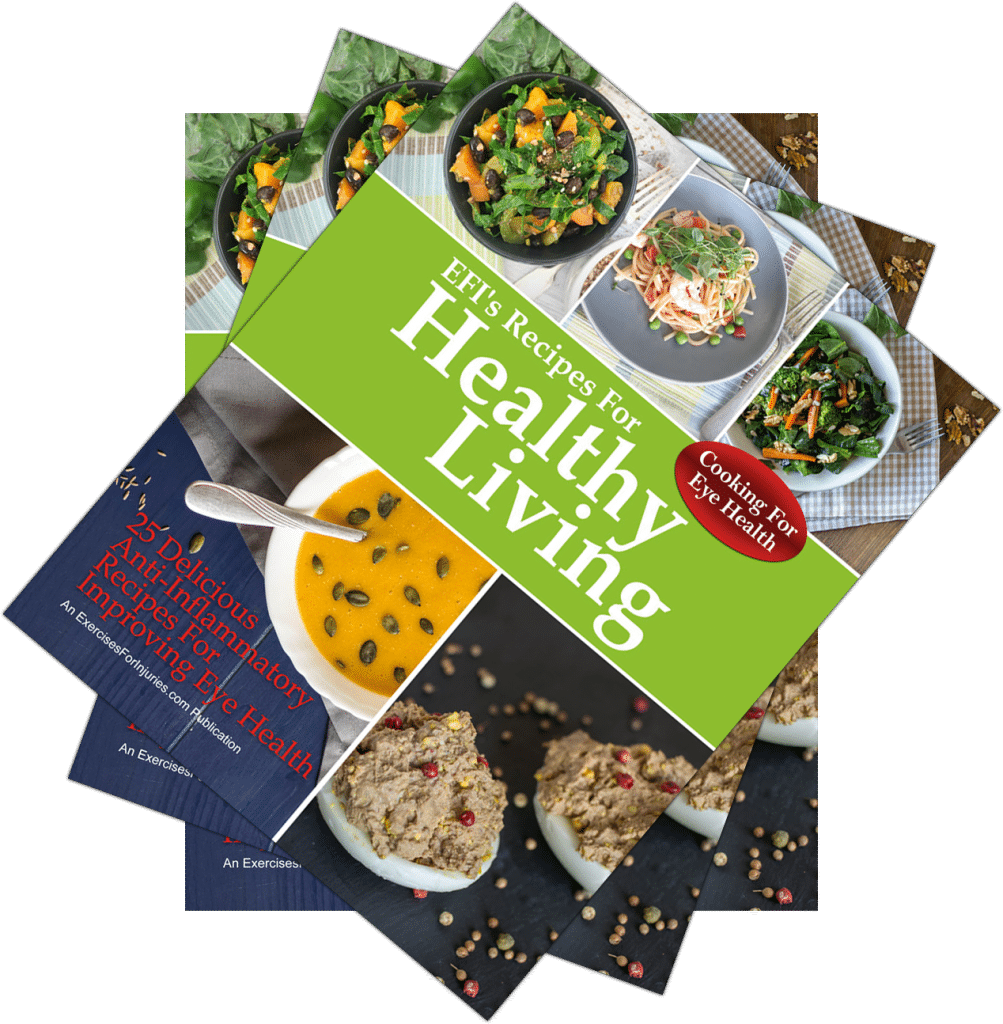 Easy-to-follow, health-specific recipes can improve lives and families. Take someone like Linda for example...
I met her at an educational event a number of years ago.
As a mother of three (two teenagers if I'm remembering correctly) and a full-time occupational therapist, it's safe to say Linda had her hands full.
She managed several full-time jobs (basically) when you include being a wife, managing the kids' schedules, cleaning their home and cooking meals for a few "selective" eaters (her words, not mine).
No special-diets or food allergies in the house (she lucked out with that).
Until her father-in-law moved in…
Luckily, they had extra space. Grandpa could spend time with his grandchildren, especially their youngest son, and it worked out pretty nice. She said she enjoyed having him around -- except when it came to cooking.
Her father-in-law suffered from a number of ailments, and his strongly suggested diet made her concerned (and confused). The major bulk of these cooking responsibilities fell on her. She had never cooked with that type of pressure.
Not to mention, she couldn't get any clear advice from doctors or physicians. She had guidelines (do's and don'ts), but that didn't help Linda make something edible.
She couldn't find anything that addressed the health concerns she needed.
Most cookbooks follow a specific weight-loss plan or style of cooking.
Her only solution… Work harder and search harder.
She complained about wasting hours with internet groups and forums. It took awhile, but it allowed her to find real recipes (things people actually ate before).
She said the recipes were okay too.
And that would have been fine…
Had she ONLY been cooking for him.
Or had no life and ample free time. However, that wasn't the case.
This was just too much for a lone cook to handle.
Sadly, Linda and I fell out of touch.
This was before social media became big, and I wish I had a way to contact her now.
In my opinion, Linda needed specialty recipes (or cookbooks) for each of her father-in-law's health conditions. It's too bad this was before I started ExercisesForInjuries.com.
'EFI's Recipes For Healthy Living' series would have been perfect for Linda.
Every month, our team releases a new cookbook full of delicious recipes designed to aid a specific health condition.
These monthly, scientifically-based cookbooks will help you cook your way towards better health!
Cooking For Eye Health was created for people who love food and want to improve their overall eye health. Daily nutrition is an important factor to consider when caring for your eyes, but eating shouldn't be a chore. Food should be delicious.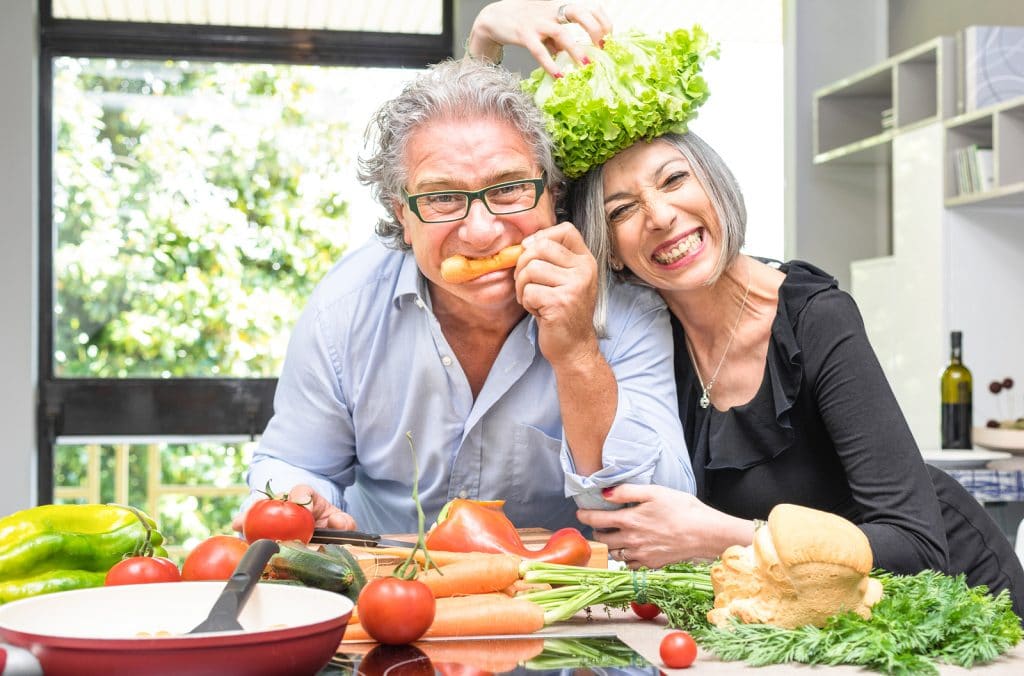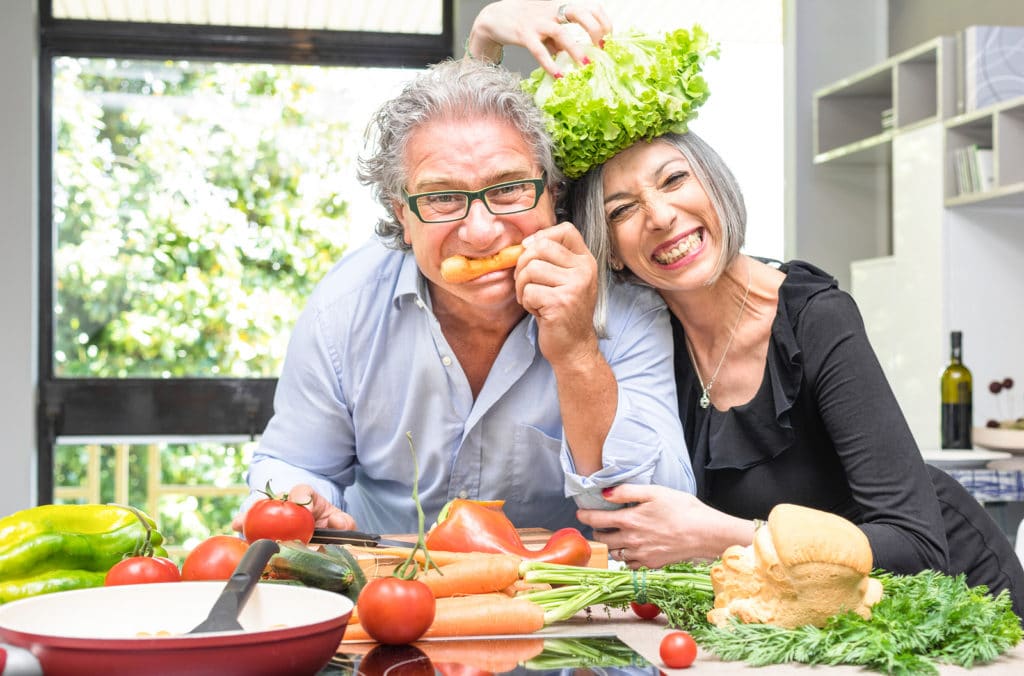 Our professional team of nutritionists and recipe writers have created a cookbook to promote/encourage eye health. They examined numerous medical studies and tested different meals to find the best recipes -- without sacrificing taste!
EFI wants to show you how to enjoy tastier and healthier dishes. And on behalf of the entire Exercises For Injuries team, we are so proud to share these exclusive recipes with you for FREE (only on this site - AVAILABLE THIS MONTH).
You must download the cookbook within the month. At the end of the month, our team will release a new cookbook (replacing this offer/cookbook). Back issues may not be available afterwards.
We might be merging these cookbooks into a bundle (that would cost you) at the end of the year. Don't miss your chance to get it for FREE!
These meals will improve more than your eyes...
All of our recipes follow the general basics of an anti-inflammatory diet, which is widely considered the best healthy-eating lifestyle. However, my team took these recipes and customized them to enhance your overall eye health.
But inflammation is more serious than you might think…
It has been linked to most modern ailments including Cardiovascular Disease, Cancer, Arthritis, allergies, Diabetes, depression and Alzheimer's. Unhealthy ingredients (such as saturated fats, sugary foods or processed wheat) trigger our body's natural immune response, which causes inflammation.
Medical professionals have also found a link between inflammation and overall weight.
Chronic inflammation interferes with the brain's ability to receive our body's weight-control messages, which leaves us with a larger appetite than necessary.
Hence, you gain excess weight.
And the whole thing becomes a vicious cycle too...
Excess fat produces more inflammation; more inflammation leads to more weight gain.
No need to worry about that with these recipes!
Cooking For Eye Health contains professionally-crafted meals designed to...
Improve your eye strains and promote/encourage eye health
Increase your sustainable energy (without sugar spikes or crashes)
Prevent chronic diseases from forming due to inflammation
Improve your body's natural healing processes
Stimulate your body's hormones for the feel-good "highs"
Counteract or even reverse the aging process
Give you the best sleep of your life
Not to mention…
You'll lose weight! But it's NOT diet food.
All of the recipes are tasty. You can still indulge your sweet tooth!
In fact, once you start to enjoy these delicious meals (and stop worrying about dumb dietary gimmicks) you'll be amazed with the improvements in your overall mood, health and energy.
Don't take it from me…
See what other people have to say:
Thank you Rick for addressing a need no other health professional has helped me with. You are my hero and savior! - Lei Ho, Honolulu, Hawaii, USA
I want to thank you for the great information. - Paula Powell
Again, many thanks for your practical wisdom and easy-to-understand explanations. I live in New Zealand, and if you are ever down this way, I would love to meet you and shake your hand. - Arthur Barnes, Whangarei, Northland, New Zealand
I'm so excited to share these EFI cookbooks with you!
This month's cookbook contains 25 delicious recipes, like...
French Toast Muffins with Iced Blueberry Yogurt
Salmon & Avocado Sandwich with Scrambled Eggs
Pumpkin Coconut Bars
Orange & Poppyseed Raw Cake
Berries Smoothie Bowl
Strawberry Raspberry & Walnut Smoothie
Carrot, Grapefruit & Ginger Punch
Warm Balsamic Glazed Beef with Lentils, Walnuts & Broccoli
Slow Cooker BBQ Black Beans with Beef
Pumpkin, Beef & Coconut Curry
Plus another 15 additional meals to enjoy
Stop choosing between delicious or nutritious…
Enjoy what our recipe writers have cooked up!
If you want to cook tasty meals that promote and encourage eye health, you should download your FREE Digital copy of the Cooking For Eye Health cookbook.
This is a Special Offer ONLY Available FREE
to Active IBA Members like Yourself.
Tired of looking at your screen?
Would you rather hold the cookbook in your hands?
Upgrade to a Physical Copy of the Cookbook
For Only the Cost of Shipping & Handling!
($8 USD for USA orders / $11 USD for International orders)
Eat Tastier Meals and Improve Your Eye Health!
My name is Rick Kaselj, and I am the founder of ExercisesForInjuries.com.
I live to help people enjoy pain-free, healthy lives.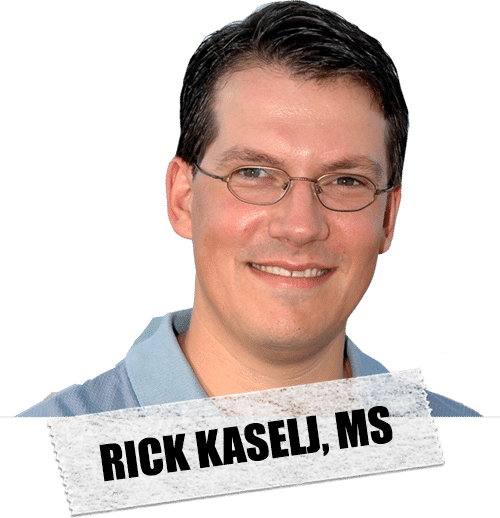 I have always been a exercise and health enthusiast. Starting in 1994, I turned this passion into my career. I have a Master's Degree in Exercise Science and 20+ years of experience with helping individuals overcome their injuries and improve their health.
My professional focus is to find all-natural strategies for rehabilitation, while traveling as an international presenter to share these recovery exercises. I have published numerous articles for newspapers/magazines and written leading exercise manuals. I have also given over 315 presentations to more than 6,000 health/fitness professionals across Canada and the United States.
'EFI's Recipes For Healthy Living' series has been a dream of mine for a long time.
Every month, our team will be releasing a new 25-recipe cookbook with ingredients to help/aid a specific health condition. Here's the schedule for the year:
January -- Eye Health
February -- Heart Health
March -- Digestive Health
April -- Adrenal Health
May -- Arthritis/Joint Health
June -- Brain Health
July -- Blood Pressure
August -- Allergies
September -- Sexual Health
October -- Cancer
November -- Diabetes
December -- Skin Health
Back issues may not be available, so you should download now to guarantee your copy. After the last day of the month, it might be too late. That's why it's important to act!
If you want to cook appetizing meals that specifically promote and encourage eye health, you need this month's exclusive cookbook -- Cooking For Eye Health.
Normal Digital Price: $10
IBA Members Digital Price: FREE
Tired of looking at your screen?
Would you rather hold the cookbook in your hands?
Upgrade to the Physical Cookbook For
Only Shipping & Handling!
($8 USD for USA orders / $11 USD for International orders)
It can be as simple as what you cook!