Free Cookbook: Enjoy the Flavors of Fall with these 10 Autumn Recipes
Traditional Fall Meals with a Creative Twist, Packed with Special Anti-Inflammatory Capabilities!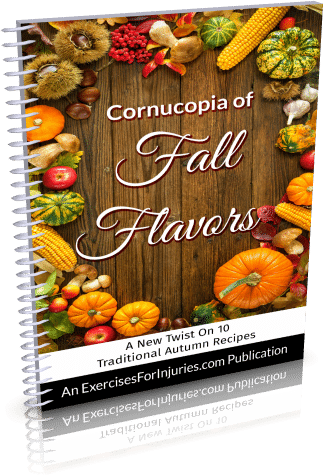 Inside this FREE Fall Cookbook, you'll find 10 delicious recipes designed to keep you healthy and cozy through a chilly fall while reducing inflammation. Dazzle your friends and families with mouth-watering feasts with easy-to-follow recipes. Download your cookbook today.
Simple and easy-to-follow instructions with full-colored images to help you cook up amazing dishes on demand.
4 intricate entrees including Yellow Bean and Turkey Au Gratin, Slow Cooked Pork with Roasted Veggies, and Spicy Ground Turkey.
3 fresh and easy side dishes like the Loaded Chickpea Salad and Sweet Potato Fritters
3 mouth-watering desserts including Baked and Honeyed Pears and Pumpkin Cupcakes.
Grab your free Fall Cookbook and enjoy cozy home cooked meals with friends and family.
Download the Cornucopia of Fall Flavors by clicking the button below and treat yourself with delicious healthy meals this fall!
Just tell me where to send it!

We value your privacy and would never spam you