Fall Flavors: Discover for Free
10 Great Tasting AND Healthy Recipes That
Will Get You Ready for Autumn!
It's time to say goodbye to the summer heat and hello to the cooler Fall weather.
But Fall isn't just about great weather, it's also about some truly great flavors… and to help you celebrate those Fall flavors, we have created a new cookbook entitled, "Cornucopia of Fall Flavors: A New Twist on 10 Traditional Autumn Recipes."
This cookbook is a great way to enjoy some of the quintessential tastes of Fall while also boosting your health!
All of our recipes are good for you. In particular, each recipe contains foods that help reduce inflammation.
Inflammation is a horrible condition that can cause us to look and feel older than we are. It can cause us to feel pain, for example in our joints, and it can also zap our energy. If allowed to get bad enough, inflammation can even lead to serious illnesses like cancer.
Our "Cornucopia of Fall Flavors" cookbook allows you to get into the spirit of the season while also reducing inflammation. Your energy may improve and you may just plain feel better as a result of eating these meals.
There are 10 recipes in all, including recipes for entrees, sides, and desserts. There are recipes for slow cooked pork with roasted veggies, cranberry salsa, black bean brownies, and much, much more.
All the recipes are great tasting and easy to make. You don't have to be a professional chef to prepare these meals.
Here's another great thing about this cookbook – act now and you can get it for FREE! That's right, just click on the link below and you can get our "Cornucopia of Fall Flavors" cookbook at no charge.
Enjoy the tastes of Autumn while benefiting your body – get our free Fall cookbook today!
Just tell us where to send it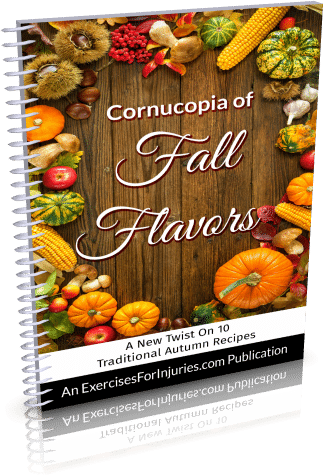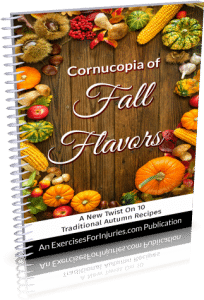 We value your privacy and would never spam you