FREE New Year's Cookbook: Ring in the New Year in (Healthy) Style With Tasty Anti-Inflammatory Recipes!
You Get 10 Party Food Recipes, 2 Drink Recipes & 3 Dessert Recipes!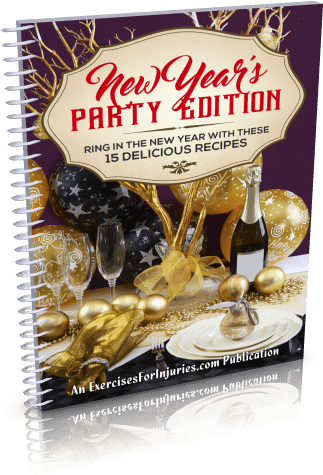 Make sure you start 2021 off on the right foot with these free anti-inflammatory recipes that taste great AND also reduce inflammation naturally, so that you feel better and can move with less pain!
In this cookbook you'll get:
Recipes for everything from Pina Colada Fruit Salad to Paleo Egg Rolls to Chocolate Chip Vanilla Cheesecake to much, much more!
Recipes that are ideal for making your celebration memorable and helping your guests feel great as they begin the new year!
Recipes that are easy to make AND anti-inflammatory to help soothe painful joints!
Feel great on New Year's Day and beyond with these delicious, anti-inflammatory recipes. There's no better way to kick off a commitment to getting healthier in 2021.
Download the free New Year's Party Cookbook today. The recipes are easy-to make; they taste great; and they benefit your health!
Just tell me where to send it!

We value your privacy and would never spam you