Injured? Out of Shape? Busy at the Office?
Discover How to Get a Full Body Workout – Including Cardio –
WHILE SEATED!
You Are Going to Be Shocked at How Effective This Bodyweight Workout is – You'll Challenge Your Muscles & Get Your Heart Pumping
To many, the words "seated workout" may seem like a misnomer … like something that can't possibly be very effective.
But the simple truth is a seated workout can be a great way to get in shape – particularly if you are injured, overweight, elderly or stuck at the office.
That's right, there are actually a variety of moves that you can do seated at your desk or on a chair in your home that will help you get fit. You can even do seated workouts at the gym or the local park.
Just look at some of the benefits that you will enjoy from regularly completing a seated workout:
Improved strength
Improved muscle tone
Improved range of motion
Improved cardiovascular fitness
Improved circulation
Improved cognitive function
Improved bone density
Improved mood
Improved sleep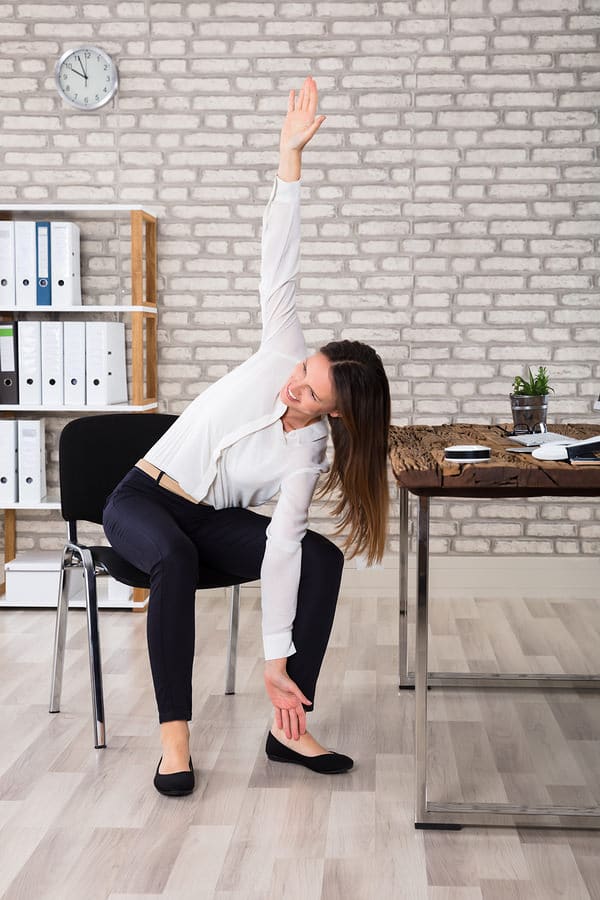 Of course, a seated workout is like any other workout – do the wrong exercises or the wrong exercise order and you are not going to experience all those terrific benefits listed above.
Making the problem worse is that everybody thinks they're a fitness expert these days. The Internet is flooded with programs, many that contradict each other.
How can you know who to trust? How can you know which programs will actually help you get in better shape, and which ones will just waste your time?
Well, to help save you the stress and headache of researching programs and trying to sift through all the claims and get to the real truth of what the programs will do for you, here's what I've done:
I've found the absolute best upper body, lower body and cardio seated exercises – and I've put them all into one easy-to-use, highly effective program.
And I didn't stop there. I then determined the least number of exercises that you need to do and put them in the right order and the correct amount to create a program that dramatically improves your fitness without causing you to risk injury or interfere with an already busy schedule.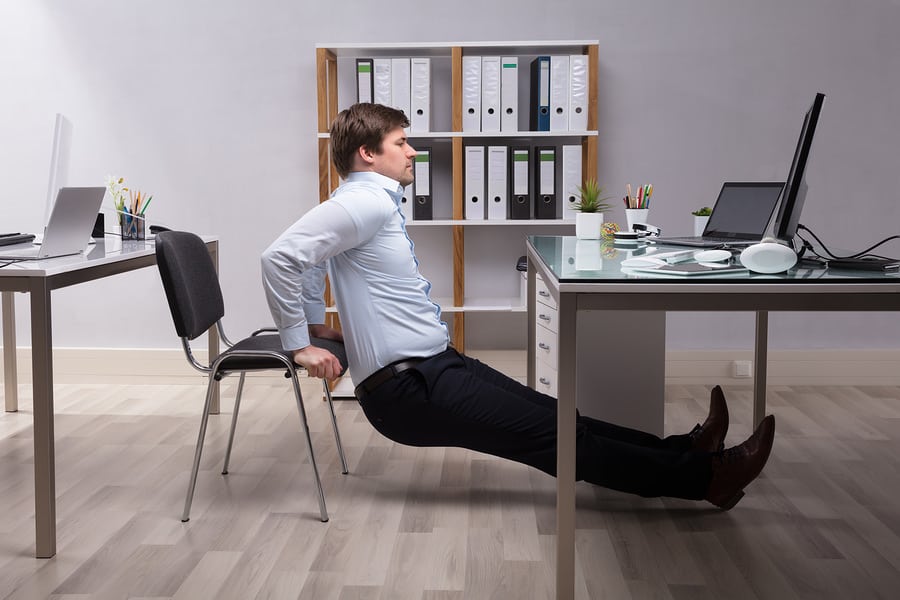 Now you won't have to read about programs and try to determine who is telling the truth. Now you won't have to battle traffic and the weather to get to a physical location like a gym.
You can do these exercises at the office or at home, or anywhere else where there is a stationary chair or bench.
Plus, with this program I've included descriptive guides and comprehensive videos that break down the exercises so that proper form is easy to learn.
So why risk wasting your time doing ineffective exercises and inefficient exercise routines… when you can get the absolute best seated workout right here?
I've Made This Program Not Only Highly
Effective, But Also Highly Efficient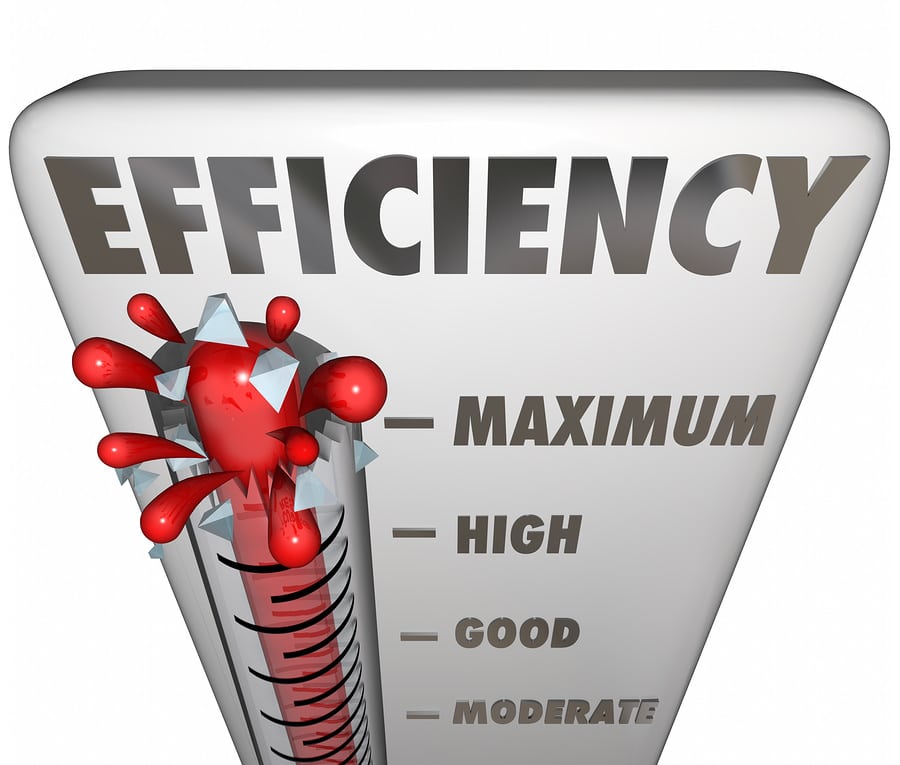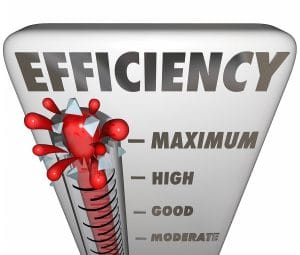 You won't have to spend hours each day doing time-consuming exercises. With this program, you do exactly the exercises you need to do in the amount and order you need to do them. There is no extra, no fluff.
If you are elderly, you will begin to feel years younger and much more energetic …
If you are overweight, you will begin to see those excess pounds
melt away …
If you are busy, you can now improve your fitness without disrupting your schedule – you can work out where you are, even while you are working or watching TV.
Enjoy the Amazing Benefits of Exercise with a Safe,
But Challenging Seated Workout Program
The problem with a lot of exercise programs that are available on the Internet – seated or traditional – is that you don't know the qualifications and expertise of the person behind them.
In other words, you just don't know who you can trust.
And doing the wrong exercises can do a lot more harm than good. You could actually end up just wasting your time doing exercises that aren't effective.
Making the commitment to exercise and then seeing little to no results from those efforts can be very discouraging and cause many people to give up on exercise all together.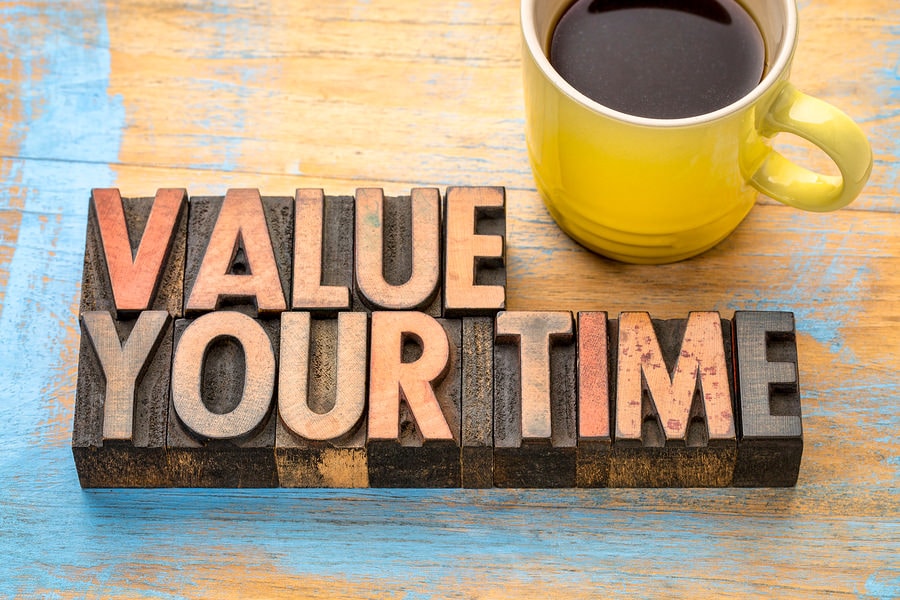 Don't waste your time – make sure you get the best seated workout – a bodyweight workout that has been shown to be effective for people, no matter what their body type, age or fitness level.
This program contains the best upper body strengthening exercises and the best lower body strengthening exercises, and it includes the best seated cardio exercises as well.
When you do this program you get a 1, 2, 3 punch of fitness that builds strength, cardio fitness and range of motion.
The program is a bodyweight program. While many of the exercises and movements are performed using a chair or bench, you'll also need inexpensive item/s such as Resistance Tubing with Handles. You can purchase these items at most sporting goods stores or you can check our Exercises For Injuries Store.
Even if you do not have these equipment, you can still do the program and get great results using the chair or bench.. This will all be covered in the program so you know exactly what to get and how to use it.
You know the benefits of exercise or you likely wouldn't be reading this page. It's time to start experiencing those benefits through the safety and effectiveness of a bodyweight seated workout program.
This program has been meticulously designed to produce the best possible fitness results for those who use it. Often, with a lot of the free exercises that are out there, key components of an exercise program are missed.
Also, the order the exercises are performed can be very important. Doing them in the right order can vastly increase their effectiveness.
You also need a program that includes cardio, which can be difficult from a seated position, but good cardio exercises are vital for heart health.
I've created a program that does all of these – helping you to get in much better shape, much faster and easier than you probably thought possible.
So Who Am I & Why Should You Listen to Me?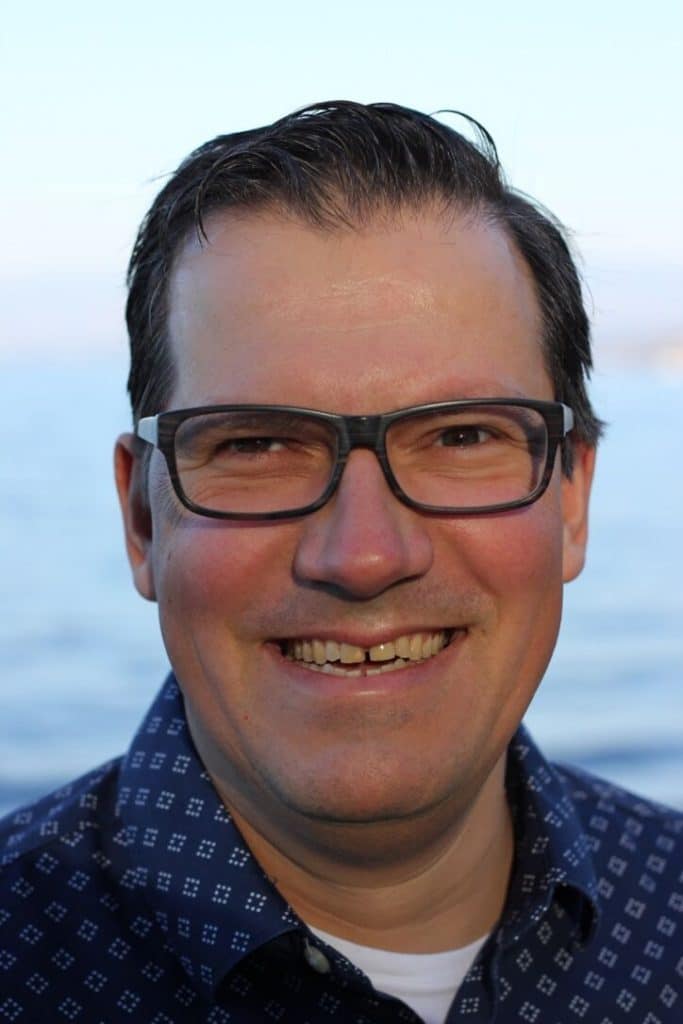 My name is Rick Kaselj, MS, and creating programs that help people heal injuries and eliminate pain is exactly what I do.
I started as a personal trainer, exercise therapist and kinesiologist, but quickly discovered that many of the traditional exercise and treatment programs weren't producing the results I wanted for my clients.
So, I took it upon myself to get the right knowledge, scour the available medical research, and do hands-on testing, so I could ACTUALLY help my clients get better.
With the advent of the Internet, I saw a terrific opportunity to offer and deliver my programs to many more people, so they too could finally get relief from pain, heal their injuries, and get back to the lives they enjoy.
My Safe & Strong Seated Workout - Bodyweight Edition is the result of 6 years of University study (including a Master's Degree in Exercise Science), over 25+ years of hands-on experience, constant searching for the best seated exercise techniques, and teaching these techniques to thousands of other fitness & health professionals who have then used them to help their clients - plus the careful scrutiny of over 8 medical studies.
What I've discovered is that the body is truly an amazing creation – capable of healing itself from some of the most horrific injuries, and by doing simple exercises we can actually improve our fitness and help our bodies heal even faster.
Now that I've told you about myself, let me tell you more about this incredible exercise program and what it includes.
Introducing the Safe & Strong Seated Workout - Bodyweight Edition
At last, there is a comprehensive, yet simple to follow program that contains the exercises you need to know to improve upper and lower body strength and flexibility, and improve cardio health.
You get manuals that describe the entire program in an easy to understand manner and videos that show you exactly how to perform the exercises… along with a lot more.
This program:
Breaks down how to exercise effectively from a seated position using simple exercises that anyone can do, no matter what their age or physical condition
Shows you what exercises to do and the correct order to do them to get quick fitness results
Allows you to make the exercises easier or more challenging depending on your current physical condition
Gives you the absolute best bodyweight exercises for a seated workout program – you can build muscle, increase flexibility, and improve cardio health without having to spend money on exercise equipment like weights, cardio devices, or a gym membership
Not only tells you what exercises "TO DO" but also what exercises to avoid because they are a waste of time
Reveals how to avoid the common mistakes that people often make with a seated bodyweight exercise program
Here's Everything That is Included in the Program: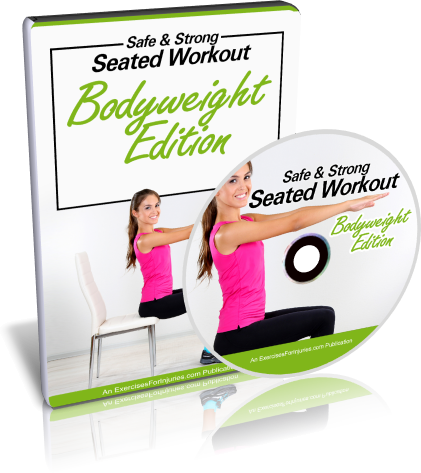 QUICK-START INTRODUCTION VIDEO:
The Safe & Strong Seated Workout - Bodyweight Edition program is filled with a lot of beneficial information but I want you to be able to get started and experience results as fast as possible so I created this introduction video which distills all the content down to the bare essentials you need to know to get started fast.
The Quick-Start Introduction Video lays out the exact roadmap you need to follow to improve your fitness.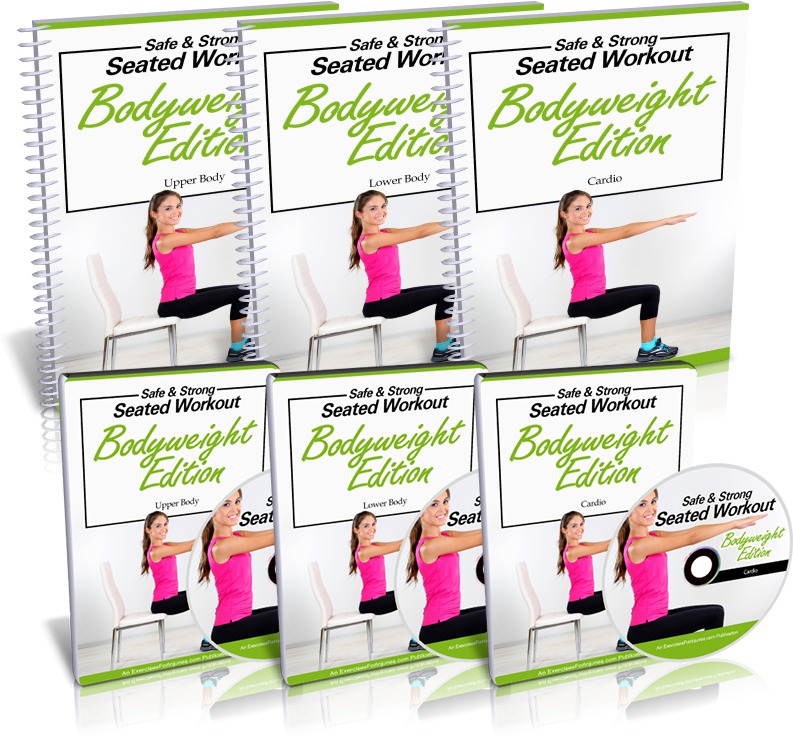 3-STAGE COMPREHENSIVE EXERCISE PROGRAM:
I've included three upper body workouts, three lower body workouts and three cardio workouts. The workouts allow you to self-direct your progress so you get the fastest possible results. The workouts progress from very easy (Getting Started Workouts) to more challenging (Invincible Workouts). This three-stage structure ensures that any person can complete this program and start enjoying the benefits of regular exercise, such as weight loss and increased energy, quickly.
For each of the 3 workouts, you get 3 instructional videos, 3 comprehensive manuals, 1 quick reference guide, and 1 tracking sheet – everything you need to achieve maximum results. Here's what comes in each:
INSTRUCTIONAL VIDEOS: 
The instructional video you get in each of the stages is your virtual personal training session. In these instructional videos, we will:
Slowly Demonstrate STEP-BY-STEP

exactly how to do each exercise perfectly, so you can definitely get it right

Show you ALL the common mistakes people make doing these exercises, so you also know what NOT to do

Give you

everything you need – exactly how many reps and sets you should do, time and intensity, what you should feel as you do the exercises so you know you're doing them right and more.
MANUALS:
You get 3 manuals - one for each of the 3 stages in the program. In these handy PDF guides, you'll have everything you need to use this program to reach your end-goal of being leaner, fitter and more active. The guides include:
All of the gentle, but highly-effective exercises, stretches and movements you'll use in this program. Each is explained in detail, with precise step-by-step instructions.

Start-position and end-position photos for every exercise

Common mistakes and how to avoid them

Tips and advice on everything else you need to know, like: number of reps, number of sets, how long each rep should take, 

exactly what you should feel as you do each stretch and exercise so you can be sure you're doing them correctly, and how to progress if the exercises become too easy.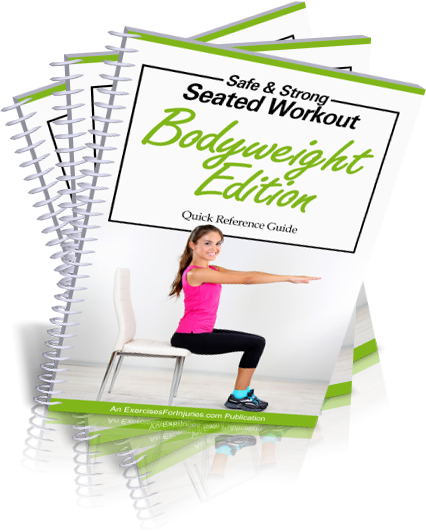 EXERCISE QUICK REFERENCE GUIDE:
As mentioned above, for each of the 3 stages in this program, you get an instructional video and a comprehensive manual.
Once you get into the program and start learning the exercises, you may want a faster, more convenient way to access the exercises, rather than having to fast-forward through the videos, and leaf through the larger manuals every time. That's exactly what this Exercise Quick Reference is for!
Every exercise in the program is laid out in this brief guide so it's quick and easy to find them, learn them and do them! For every exercise, there is a start and end photo, a quick summary of the exercise, and instructions on how to do it correctly.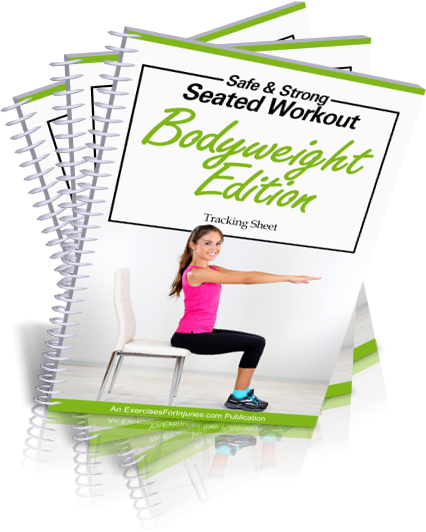 PROGRESS TRACKING SHEET:
In my more than 20 years of experience as a kinesiologist and injury expert, I've seen time and again that the people who measure their progress while they do my programs experience better and faster results than those who don't.
It's very important to measure your progress as you do this program. It will keep you on track. It will keep you motivated... which will keep you doing the exercises... which will actually get you the results you want. You simply cannot get the results if you don't do the exercises!
Take a Look at What Others Are Saying
About Me & My Exercise Programs:
"Your exercises have changed my life. I had been in constant pain for 15 years."

- Shelley Watson, Carmel, CA
"I just wanted to say thank you for providing what I needed to resolve my problem! After following your exercises, I went through work all day with no pain and no pain medication. Yeah! Thanks so much for a simple answer to a problem I have been dealing with for months."

- Tracy Walker, North Carolina
"Thank you, Rick. You saved my career!"

- Marco Mura, Sardegna, Italy
"I want to thank you for the great information."

- Paula Powell
"I am so grateful for Rick's programs and wish I could afford all of them."

- R. Theodore, York, Pennsylvania, USA
"Again, many thanks for your practical wisdom and easy-to-understand explanations. I live in New Zealand, and if you are ever down this way, I would love to meet you and shake your hand."

- Arthur Barnes, Whangarei, Northland, New Zealand
"Before I used the information, I couldn't walk normally for at least the first 15 minutes each morning. After using the program, I only have a little pain, but it eventually all got better with continued attention."

- Cher Anderson, Athens, TN
Get the Safe & Strong Seated Workout - Bodyweight Edition Program & Get Fit Fast
Imagine watching that extra weight melt away right before your very eyes …
Imagine being able to move easier and without pain or discomfort …
Imagine having more energy and feeling years younger than you do now …
The Safe & Strong Seated Workout - Bodyweight Edition is filled with the expert tips and exercises that will allow you to lose weight and get in much better shape.
Plus, with the videos you can see exactly how to do the exercises so you can avoid using bad form, which could negatively impact your results.
Save yourself money and frustration – get The Safe & Strong Seated Workout - Bodyweight Edition today and start looking and feeling better!
Order Now & Get This Entire Package
for Just $19!

(Regular Retail Price = $57)
Special Discounted Price
(ONE TIME OFFER) = $19
Get INSTANT ONLINE ACCESS to the Safe & Strong Seated Workout - Bodyweight Edition.
You get lifetime access to everything 24/7/365, on any computer or mobile device.
Get a powerful but convenient exercise program that you can do anywhere while seated.
This program is not just a bunch of exercises thrown together with the hope that they will get results. This is a carefully designed system that has already helped many people get in much better shape.
The Safe & Strong Seated Workout - Bodyweight Edition is the result of years of scholarly medical research and feedback from real-world tests and experiments with hundreds of clients.
With this program:
You will know exactly how many reps to do
You will know exactly how many sets to do
You will know exactly what intensity you should do each exercise with
You will know exactly how your body should feel when you do each exercise correctly
Nothing is left out – there will be no guesswork or confusion about what to do.
Everything in this program is systemized and laid out perfectly and clearly for you so that you can get in better shape.
Get The Safe & Strong Seated Workout - Bodyweight Edition today! For just $19 you could save hundreds, if not thousands, in medical costs down the road.
It's vitally important that you take care of your body! Failure to do that could lead to expensive health problems and a lower quality of life.
Let Me Recap, Here's All That You Will Get
When You Order Now:
QUICK-START INTRODUCTION VIDEO

A quick overview of the program

($7 value)

3-STAGE COMPREHENSIVE EXERCISE PROGRAM

Your personal training and coaching sessions
(9 Instructional Videos, 9 Comprehensive Manuals PDF)

($137 value)

EXERCISE QUICK REFERENCE GUIDE

(3 Quick Reference Guides PDF)

($27 value)

PROGRESS TRACKING SHEET

(3 Progress Tracking Sheets PDF)

($27 value)

SPECIAL BONUS #1: FREE LIFETIME MEMBERSHIP IN MY VIP COACHING GROUP

($57 value)

SPECIAL BONUS #2: FREE LIFETIME UPDATES

($37 value)

> > >  TOTAL VALUE OF ALL COMPONENTS (10 videos, 15 PDFs)

$292.00

> > > 

REGULAR PRICE

$57.00

> > >  YOUR PRICE (FOR A LIMITED TIME!)

$19.00
Easy-to-perform but highly effective exercises with complete videos and instructions on how to do them
A Quick-Start Introduction Video that tells you exactly where to start and what to do to achieve the fastest results
Complete exercise blueprints to promote weightloss, increased energy and better flexibility along with improved heart health
Step-by-step easy-to-understand techniques for improving your fitness
And much, much more
Plus, With My Unconditional 100% Money-Back Guarantee,
You've Got Absolutely Nothing to Lose!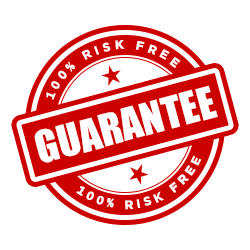 I am so sure that you will love the Safe & Strong Seated Workout - Bodyweight Edition program that I am offering an unconditional 100% money-back guarantee.
If you are not completely satisfied with your purchase, simply notify me within 60 days, by sending an email to [email protected], or calling 1-888-291-2430 (toll free in the USA and Canada), or sending an SMS to 1-888-229-4992. I will refund your money, in full, with absolutely no questions asked!
That's EIGHT FULL WEEKS to put this program to the test! I don't think I can be any fairer than that. Get in better shape or get your purchase price back!
The Only Way to Make A Change
is By Taking Action Today!
This powerful program has three total phases, each designed to help you transform your body.
It's perfect for men and women who want to see their hard work pay off with a leaner, fitter, more muscular body.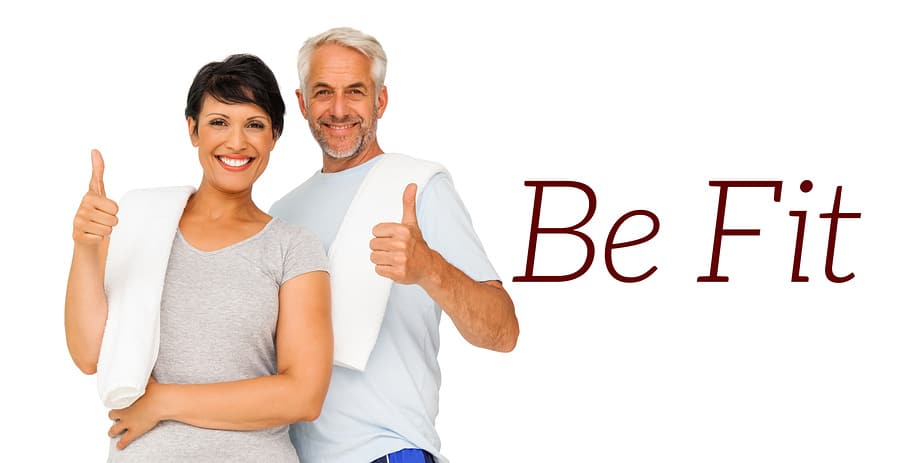 Please remember …
We are NOT meant to become a shell of ourselves as we get older …
We are NOT meant to be tired all the time, struggling to get out of bed in the morning even after a full night's rest …
And we are definitely NOT meant to settle for a life that isn't amazing and exciting…
All you need is access to information that hasn't been available until now – the information in the Safe & Strong Seated Workout - Bodyweight Edition program.
With this information you can make a real change in your body … and your life.
The choice is now yours.
Do nothing and watch yourself become more out of shape and more frustrated … or click the Buy Now button below, enter in your information in our 100% secure order form page, and get started losing weight and building muscle today.
Once you enter in your information, you'll receive instant access to the entire Safe & Strong Seated Workout - Bodyweight Edition program … including the step-by-step guide on how to get started fast.
Now in Just Minutes a Day – While Seated at Your Desk or in Your Home – You Can Get in Better Shape so That
You Feel Better Physically & Mentally
Watch the videos when and where
it is convenient for you!

(Regular Retail Price = $57)
Special Discounted Price
(ONE TIME OFFER) = $19
Get INSTANT ONLINE ACCESS to the Safe & Strong Seated Workout - Bodyweight Edition.
You get lifetime access to everything 24/7/365, on any computer or mobile device.
To your health and well-being,
Rick Kaselj, MS
Injury Specialist & Kinesiologist
P.S. The worst part is that the longer you put off taking action, the less chance you will have of fully recapturing your vitality! Don't wait any longer. Get the Safe & Strong Seated Workout - Bodyweight Edition and find out exactly what you need to do to build muscle and lose weight, no matter what your age! Click here to order.
P.P.S. Remember, there is NO RISK at all for you when you try the Safe & Strong Seated Workout - Bodyweight Edition program. If you are not completely thrilled with how this program helps you get rid of your pain just let me know and I will refund your money. Your satisfaction is 100% guaranteed. Order now.