Free Cookbook: Refresh Your Health and Taste Buds This Summer
Download and Try Our 15 Tasty Summer Recipes With Special Anti-Inflammatory Capabilities!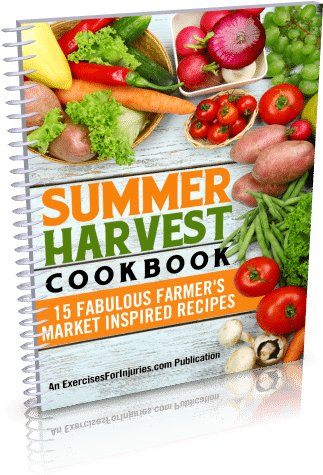 Inside this FREE Summer Cookbook, you'll discover 15 of our original recipes designed to keep you hydrated and fueled for the Summer while reducing inflammation. We use fresh produce from the Farmer's Market so you know you're getting a mouth full of wonder and delight for your taste buds and your body.
Step-by-step recipes with full-colored images to "wow" your friends and family and keep them healthy and energized
6 wonderfully refreshing soups and stews including Roasted Tomato Soup, Irish Stew and African Black Eyed Peas
5 hearty entrees and sides packed with healthy fuel for energy including Sesame Stuffed Eggplant, Ratatouille with Goat Cheese and Bacon, and Okra Tomato Curry
4 sweet and chilly snacks and drinks including Super Moist Peach Pie and Strawberry Ice Cream
Grab your free Summer Harvest Cookbook and enjoy refreshingly tasty and healthy meals every day!
Download the Summer Harvest Cookbook by clicking the button below and treat yourself to healthy tasty meals this summer!
Just tell me where to send it!

We value your privacy and would never spam you