ATTENTION:

Women and men 45 to 75 years of age …
HERE'S WHAT'S STANDING BETWEEN YOU AND OPTIMAL HEALTH, ENERGY, AND WEIGHT
If you're over the age of 40

, you need to read every word of this exciting information, because it could change your life…
Ever feel a bit "off"?

Fatigued, less than your best, or out of shape?
Fear losing your ability to keep doing all your favorite activities, playing sports, or playing with your children or grandkids?

Get intimidated or uncomfortable by gyms and health clubs?

Become overwhelmed by the countless choices available to improve your health and body?

Suffer from extra weight, obesity, or not being entirely healthy?

Worry about aging, losing your attractiveness, or being dependent on others?

Find yourself wishing

there was a low-impact, easy-to-do workout program that gets results without robbing you of your time?
If so, you're not alone.
Millions of women and men your age, around the globe, are in the same boat.
AGING IS A FACT OF LIFE…


BUT THERE'S NO NEED TO SIT AROUND
AND ALLOW YOUR BODY AND HEALTH TO DETERIORATE
You probably already know that the aging process can result in:
Sagging or wrinkled skin
Poor posture
Loss of muscle tone
Increased fat storage
Reduced bone density
And many more undesirable effects
YOU CAN
COUNTERACT
MOTHER NATURE'S AGING EFFECTS …
… with the right regular exercise program.
In fact, with a quick, simple daily workout in the comfort of your own home, YOU can REDUCE YOUR RISK of …
Diabetes
Depression
Osteoporosis
Hypertension
Heart attacks
Decreased mobility
Brain function decline
Certain types of cancer
Death from heart disease
Dementia and Alzheimer's
Falls followed by fractures
Incontinence
Arthritis-related pain and disabilities
Plus, exercise has a positive effect on your mood, sleep patterns, and management of stress.
Nevertheless, it's IMPORTANT to know that …
HOW YOU SHOULD EXERCISE




BETWEEN THE AGES OF 45 AND 75


IS SIGNIFICANTLY DIFFERENT THAN WHEN YOU WERE
IN YOUR 20s
Yes, getting a regular dose of exercise or physical activity can help you stay healthier and more youthful.
The more physically active you remain, the LESS you'll feel or experience many preventable, unpleasant EFFECTS OF AGING.
You no longer have a 20-year-old's body.
You shouldn't punish your body with grueling and unnecessarily intense workouts.
For example, HIIT (high intensity interval training) might not be right for you, and can result in …
Soft tissue injuries
Damage to your knees, ankles, and hips
Stretched or sprained ligaments and tendons
The WRONG type of exercise can do more harm than good!
So, what's a safe, effective way for you to exercise?
LOW-IMPACT, HIGH-RESULT


WHOLE BODY WORKOUTS YOU CAN
DO QUICK AND EASY
When properly designed, low-impact workouts are super effective.
Plus, they reduce the risk of injuries.
Common reasons to go the low-impact way include …
Aging
Stress fractures
Arthritis problems
Beginner to exercise
Injuries (joints and/or bones)
Obesity (or being very overweight)
Dislike for high-impact, high-intensity exercise
Low-impact movements (exercise) require you to keep at least one foot in constant contact with the floor or ground.
That means no jumping … or making your muscles exert maximum force in short-time intervals.
EVERYONE can benefit from low-impact workouts – regardless of age.
IT CAN TAKE YOU YEARS TO SORT THROUGH ALL THE RESEARCH AND INFORMATION

TO CREATE A SAFE, FAST, AND EFFECTIVE WORKOUT ... OR YOU CAN MAKE IT SIMPLE
Yes, all the information you need is out there …
… scattered across thousands of medical journals, scientific studies, and other sources.
But unless you like playing detective or are a talented researcher, you're up for a serious challenge – because MOST OF IT is darn hard to find!
Plus, in order to create your own low-impact, high-results workout, you will need to …
Spend years gathering all the scientific and medical research (if you can even find it)
Track down the original sources for everything
Learn proper, safe exercise techniques
Separate the accurate information from the bad
Oh yeah, you'll then have to figure out how to put it all together into an easy-to-do, effective workout … that doesn't take much time!
THAT'S EXACTLY WHY

TONE & TIGHTEN IS SO VALUABLE
TONE & TIGHTEN has done all the research for you. It is an all-in-one, carefully-designed workout program that offers 3 different levels of workouts, from easy to advanced …
Getting Started Workout

(Easy)
Healthy Workout

(Intermediate)
Invincible Workout

(Advanced)
Whether you're a total beginner to fitness, or someone quite comfortable working out, you're sure to find the right workout with TONE & TIGHTEN.
You'll enjoy simple exercise routines that are …
EASY-TO-DO
LOW-IMPACT
TIME-SAVING
No expensive gym membership or equipment is required to complete these exercises.
You only need one set of inexpensive dumbbells … or some basic household objects to create resistance.
CREATED BY CELEBRATED FITNESS AND INJURY EXPERT WITH OVER 24 YEARS EXPERIENCE

PRODUCING PROVEN PROGRAMS FOR PEOPLE OF ALL AGES
Rick Kaselj is an International Injury and Exercise Expert whose advice, training, and best-selling programs have helped people of all ages, all over the world, regain control of their life. He also helps, educates, and trains thousands of health and fitness professionals across Canada and the USA. Rick's simple step-by-step dumbbell workout program, TONE & TIGHTEN, will help you improve your health, fitness, energy, and life.
Rick specifically designed TONE & TIGHTEN to include:
Low impact, high results movements

Fast, effective compound exercises

Exercise "stacking" for speedy results

Bodyweight movements that work wonders
Not only is it a one-of-a-kind workout program just for people between 45 and 75 years of age, but because it draws on years of experience and research, you'll enjoy "the best of the best."
Only the exercises, techniques, and movements that have been proven to work are included.
You get everything you need without months or years of searching … or learning the hard way through trial and error.
HERE'S WHAT PEOPLE (LIKE YOU)


SAY ABOUT SOME OF RICK'S OTHER AMAZING PROGRAMS
Tone & Tighten is a brand-new program that delivers amazing results.
And here's what women and men say about the life-changing programs created by Rick K.
Linda Arnold Retired Professional, Pézenas, South France

I am a very active 62-year-old woman, but I broke my arm and injured my elbow before Christmas and have been exercising – such as HIIT and weights, walking. But recently, I felt knee pain in one leg. After doing the Unlock Your Hip Flexors program just once, my knee pain disappeared. I am now doing it every day, followed by Unlock Your Hamstring exercises, as a warm up to my other workout. I already recommend this program.
John Cooper Retired, Melbourne, Australia

Prior to the Frozen Shoulder Solution program, I had trouble with day to day activities, exercise, and sleeping. Since starting the program, I have been able to sleep with minimal discomfort and have started upper body exercises again. I can now reach up for objects on the top shelf of my pantry! I also feel I have my strength back in my arm. The main benefit of Rick's program was that it was easy to do, easy to follow, and mostly pain-free.
Victoria Parementer Massage Therapist, Richmond, VA

I just did the Unlock Your Hip Flexors program for the first time and it is very effective!

Yay! It is only a 10-minute routine – not too tough, but I can see how much work needs to be done. I will definitely be continuing with this program. Kudos to Healing Through Movement. Thank you!
Andrea Hilborn Massage Therapist, Phoenixville, PA

I just received the Unlock Your Hip Flexors book and video two days ago. It is a well put-together system.

I have had horribly tight hip flexors for years and am hoping this will help. I definitely felt a bit of relief after doing it the last two nights. I am going to give it some time. Thank you.
Sylvia J. Richards Nova Scotia, Canada

I was not exercising at all – mainly because I was afraid. Exercise for me had been unpleasant, sometimes painful. But since I started the Invincible Core program, I am not afraid to exercise! Using the exercises and techniques taught by Rick has made me see exercising in a whole new way.
Robert Baker Sales Development Manager, Kent, United Kingdom

I've been using the Unlock Your Hip Flexors exercises 3-4 times a week since I received them. I feel more flexible, am hitting the golf ball with more authority and less effort, and have dropped 2 inches from my waistline. It is simple to follow, doesn't take up too much of my time, and this combined with a more conscious effort to live healthier has meant I haven't needed a single pain-killer/non-prescription drug for months.
HERE'S WHY




TONE & TIGHTEN WORKS SO WELL


FOR ANYONE, REGARDLESS OF AGE
International Exercise Authority Rick Kaselj specifically designed TONE & TIGHTEN as an all-in-one, efficient way for older individuals to work out … and get great results.
To do this, Rick includes …
LOW IMPACT, HIGH RESULTS MOVEMENTS

that help anyone – regardless of age – improve their health and fitness … while minimizing stress on the joints and bones and preventing potential injuries.

FAST, EFFECTIVE COMPOUND (MULTI-JOINT) EXERCISES

that target multiple joints and muscles, eliminating the need for numerous time-consuming isolation (single-joint) exercises.

EXERCISE "STACKING" FOR SPEEDY RESULTS

by strategically sequencing each exercise so it works hand-in-hand with the next, using the least amount of energy and warm-up sets.

BODYWEIGHT RESISTANCE MOVEMENTS

that work wonders for your entire body by improving flexibility, strength, and balance … without gym machines or expensive extra equipment.
TONE & TIGHEN was created to give you a FULL-BODY workout, every time.
Whether you start with the easy, intermediate, or advanced level, you'll enjoy an amazing upper and lower body workout:
| | | |
| --- | --- | --- |
| | UPPER BODY MUSCLES TARGETED | |
Chest (pectorals)
Shoulders (deltoids)
Arms (biceps, triceps, and forearms)
Core (abdominals, obliques, and rectus abdominus)
Back (latissimus dorsi, trapezius, and rhomboids)
| | | |
| --- | --- | --- |
| | LOWER BODY MUSCLES TARGETED | |
Legs (hamstrings, quadriceps, and calves)
Butt (gluteus maximus, medius, and minimus)
| | | |
| --- | --- | --- |
| | TONE & TIGHTEN'S full-body workouts allow you to: | |
Save lots of time
Improve strength
Tone your muscles
Burn more calories in less time
Increase stability and flexibility
12 MINUTES A DAY


IS ALL IT TAKES!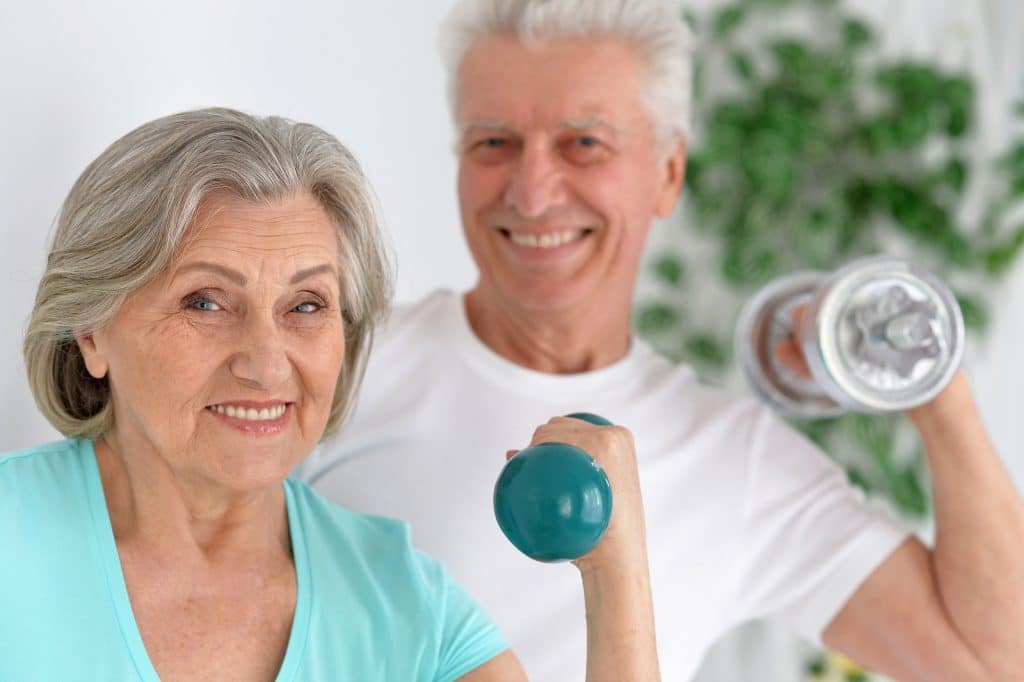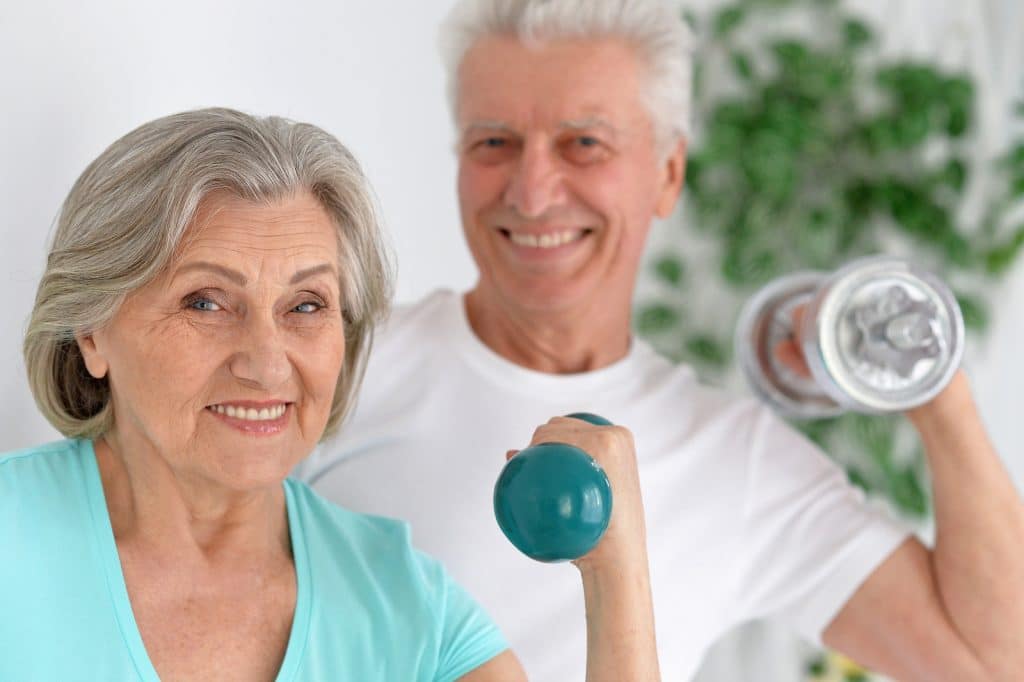 Give yourself 11 to 12 minutes each day, and you'll experience a life-changing, health-boosting workout.
That's all it takes.
The best part?
You can enjoy each TONE & TIGHTEN workout from the comfort and convenience of your own home.
Going to the gym trying to figure out or use the latest "cutting-edge" machines and equipment can be quite an inconvenient, time-consuming hassle.
With TONE & TIGHTEN, you get do-at-home (or anywhere), full-body dumbbell workouts that cover every major muscle group.
No expensive monthly payments or memberships
No wasting precious time driving to the gym or fitness club
No frustration or being overwhelmed trying to figure out equipment
THE TONE & TIGHTEN DUMBBELL WORKOUT


COMPLETE IN ONE PACKAGE, RIGHT HERE…
This amazing workout program is only available here.
And it gives you exactly what you need for real results. You get high-quality videos you can watch from any device – anywhere, anytime. That makes this program great for people who love working out at home or while traveling.
Included are easy-to-follow exercises, each with a step-by-step demonstration.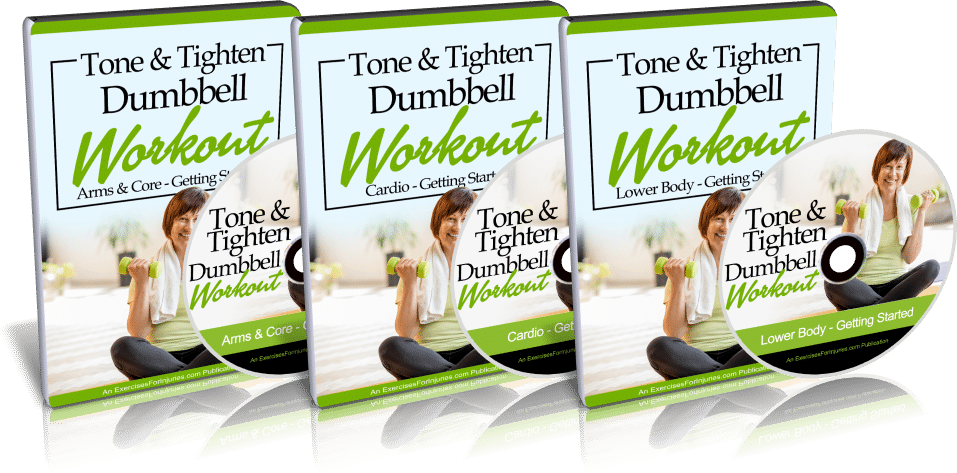 TONE & TIGHTEN'S "GETTING STARTED" WORKOUTS
$159 VALUE – INCLUDED
Are you a beginner? Out of shape? Haven't worked out for years? No problem. The "Getting Started" Workouts were designed just for you. You'll love that the entire workout is only 11 minutes – from beginning to end.
Enjoy an illustrative workout manual and 3 easy, follow-along, high-quality videos … each with a simple demonstration of exactly how to do each exercise step-by-step.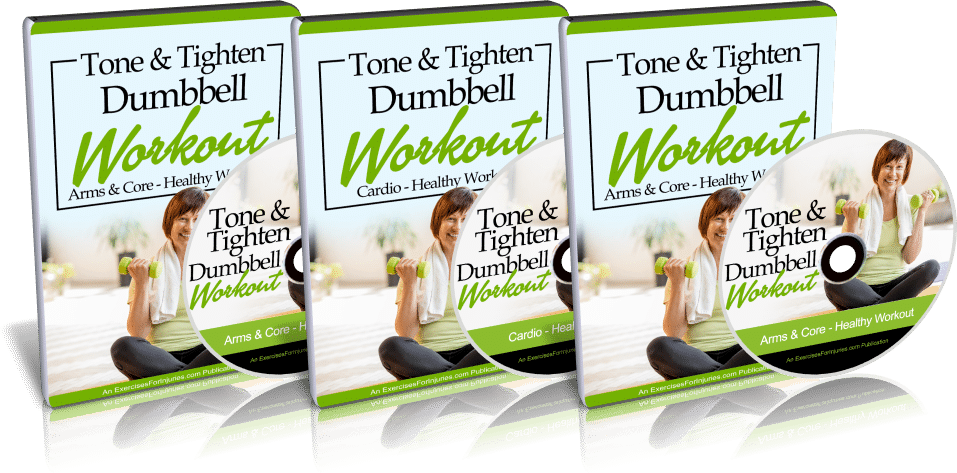 TONE & TIGHTEN'S "HEALTHY" WORKOUTS
$179 VALUE – INCLUDED
Do you lead a somewhat active lifestyle? Do you exercise a little each week? Great! The "Healthy" Workout was created with you in mind. The best part is, you'll complete the entire workout in as little as 11 minutes.
You get an illustrative workout manual, 3 high-quality videos that give you a great demonstration of every exercise in the easy-to-follow "Healthy Workouts".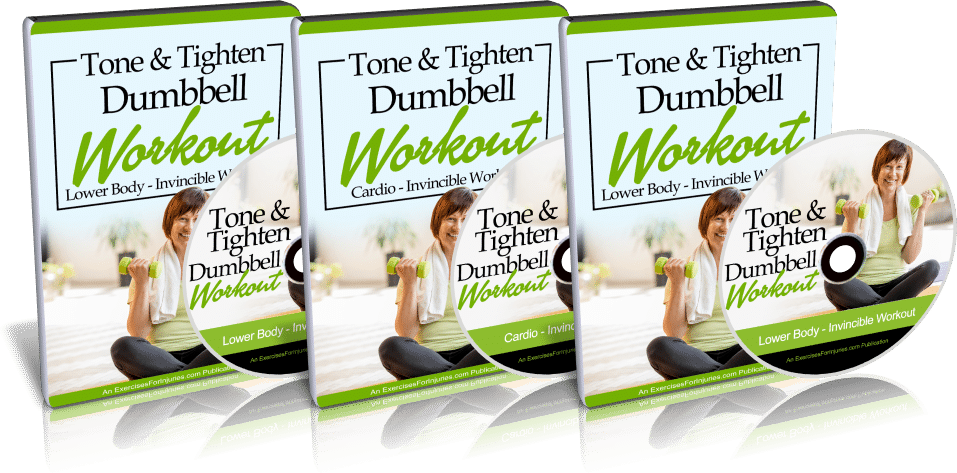 TONE & TIGHTEN'S "INVINCIBLE" WORKOUTS
$199 VALUE – INCLUDED
Are you already quite comfortable with exercise? In decent shape? Awesome! TONE & TIGHTEN's "Invincible" Workout is probably perfect for you. Here's an advanced workout that gets the job done with only 12 minutes of exercise.
You'll receive an illustrative workout manual and 3 high-quality workout videos … each with clearly explained exercise demonstrations and fun, follow-along workouts.
ACT TODAY…


GET TWO SPECIAL BONUSES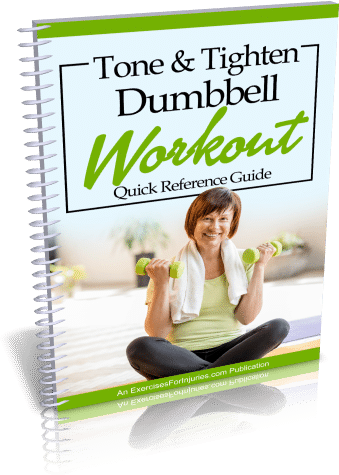 TONE & TIGHTEN'S "QUICK REFERENCE GUIDES"
$129 VALUE – BONUS INCLUDED
With these 3 handy guides, you'll be able to instantly access the exercises for every workout … without going through the videos or manuals. For every exercise, you get photo illustrations, a brief exercise summary, and how-to instructions.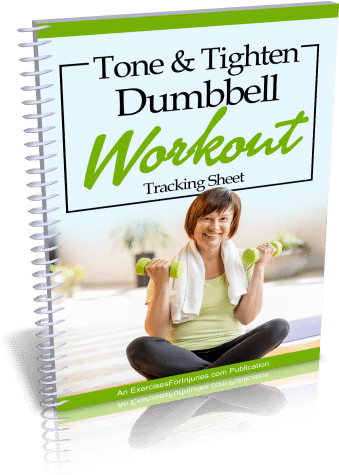 TONE & TIGHTEN'S "TRACKING SHEETS"
$99 VALUE – BONUS INCLUDED
Keep yourself motivated and stay on track with ease using TONE & TIGHTEN's powerful, printable tracking sheets. You get 3 tracking sheets – one for each workout level.
A COMBINED TOTAL
VALUE OF
$765
TONE & TIGHTEN:

THE LOW IMPACT, HIGH-RESULTS WORKOUT THAT'S EASY TO DO
–

WHETHER YOU'RE 45 OR 75
IMPROVE HEALTH, ENERGY, FITNESS, MOBILITY, AND MORE
LOVE IT OR YOUR MONEY BACK!


60-DAY RISK-FREE GUARANTEE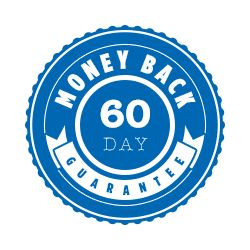 Your satisfaction is 100% guaranteed! Go ahead and get instant access to everything right now. Download the complete TONE & TIGHTEN program today. Look over everything and test-drive it for the next 60 days with absolutely no risk.
If you're not completely satisfied with TONE & TIGHTEN for any reason, simply email Rick for a quick and courteous refund. No hoops to get your money back. No hassle. No questions.
REGULAR PRICE: $109.95
TODAY ONLY: ONE TIME PAYMENT of $19
[Introductory Offer – Two Special Bonuses]
Remember, you get Rick's "LOVE IT OR YOUR MONEY-BACK" 60-Day Guarantee. Take a step in the right direction. Improve your life and health. Click the button. Get instant access to TONE & TIGHTEN, plus 2 FREE bonuses.
ORDER BELOW NOW TO

AVOID DISAPPOINTMENT
It's time to protect yourself against the effects of aging …
… and improve your health.
There's no better way to do it than by ordering TONE & TIGHTEN today.
Plus, if you act now, you'll also get all six TONE & TIGHTEN quick reference guides and tracking sheets [$228 value] for free.
So, take a step in the right direction and click the order button below now to get started – because it's time to counteract the effects of aging.
You get . . .
TONE & TIGHTEN'S "Getting Started" Workouts

($159 VALUE)

TONE & TIGHTEN'S "Healthy" Workouts

($179 VALUE)

TONE & TIGHTEN'S "Invincible" Workouts

($199 VALUE)

BONUS #1:

TONE & TIGHTEN'S Quick Reference Guides

($129 VALUE)

BONUS #2:

TONE & TIGHTEN'S Tracking Sheets

($99 VALUE)
A COMBINED TOTAL
VALUE OF
$765
REGULAR PRICE: $109.95
TODAY ONLY: ONE TIME PAYMENT of $19
[Introductory Offer – Two Special Bonuses]
Remember, you get Rick's "LOVE IT OR YOUR MONEY-BACK" 60-Day Guarantee. Take a step in the right direction. Improve your life and health. Click the button. Get instant access to TONE & TIGHTEN, plus 2 FREE bonuses.