FREE Cookbook: Satisfy Your Hunger & Warm Your Belly With Delicious Winter Recipes!
All Recipes Include Anti-Inflammatory Ingredients to Help You Feel Better!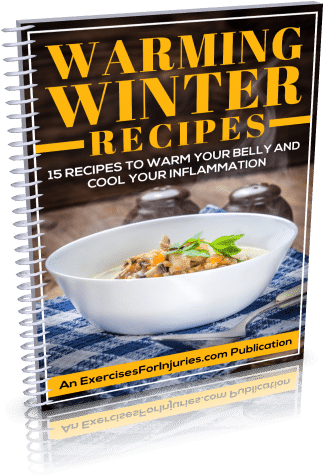 Inflammation not only causes pain and discomfort, it can also make you look and feel older! Get our new Warming Winter Recipes Cookbook and enjoy 15 anti-inflammatory recipes that taste great AND also reduce inflammation naturally so that you feel better and can move with less pain!
In this cookbook you get:
Recipes for 15 hearty dishes, including Chermoula Spiced Roasted Chicken; Colombian Beef Stew; Slow Cooker Pork Roast; and more
Each recipe will warm your belly AND cool your inflammation
Recipes are quick and easy to make – you won't have to slave away in the kitchen
Recipes feature anti-inflammatory ingredients that sooth painful joints and help reduce the signs of aging like wrinkles and pale, dry skin!
Don't let painful joints make your winter that much more uncomfortable. Get our free cookbook and get 15 recipes that taste great and help you improve your health so that you look and feel younger.
Download the Warming Winter Recipes Cookbook today. These recipes are easy-to make; they taste great; and they benefit your health!
Just tell me where to send it!

We value your privacy and would never spam you